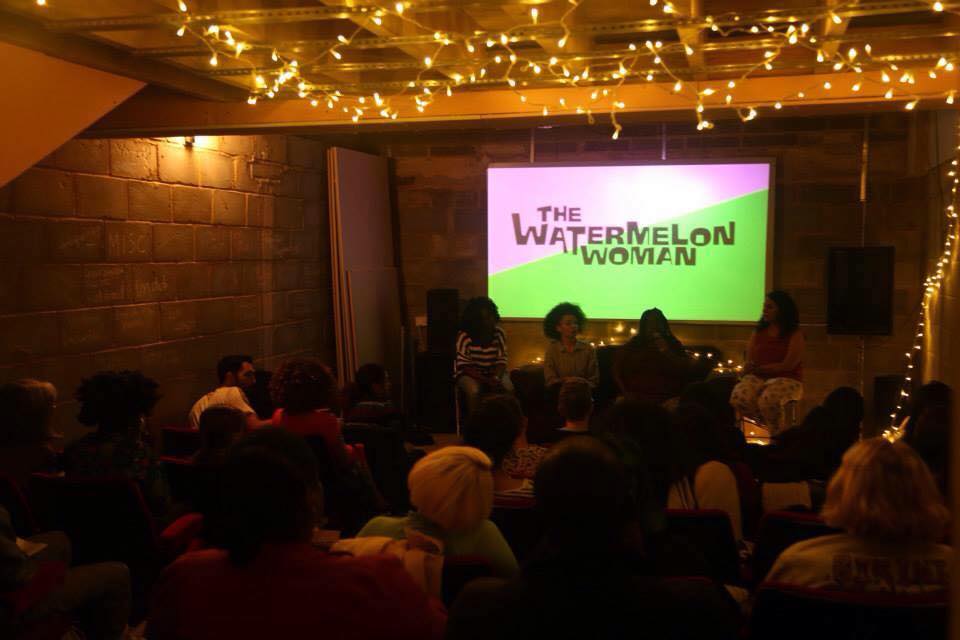 Panel discussion after the screening of The Watermelon Woman at Deptford Cinema, September 2015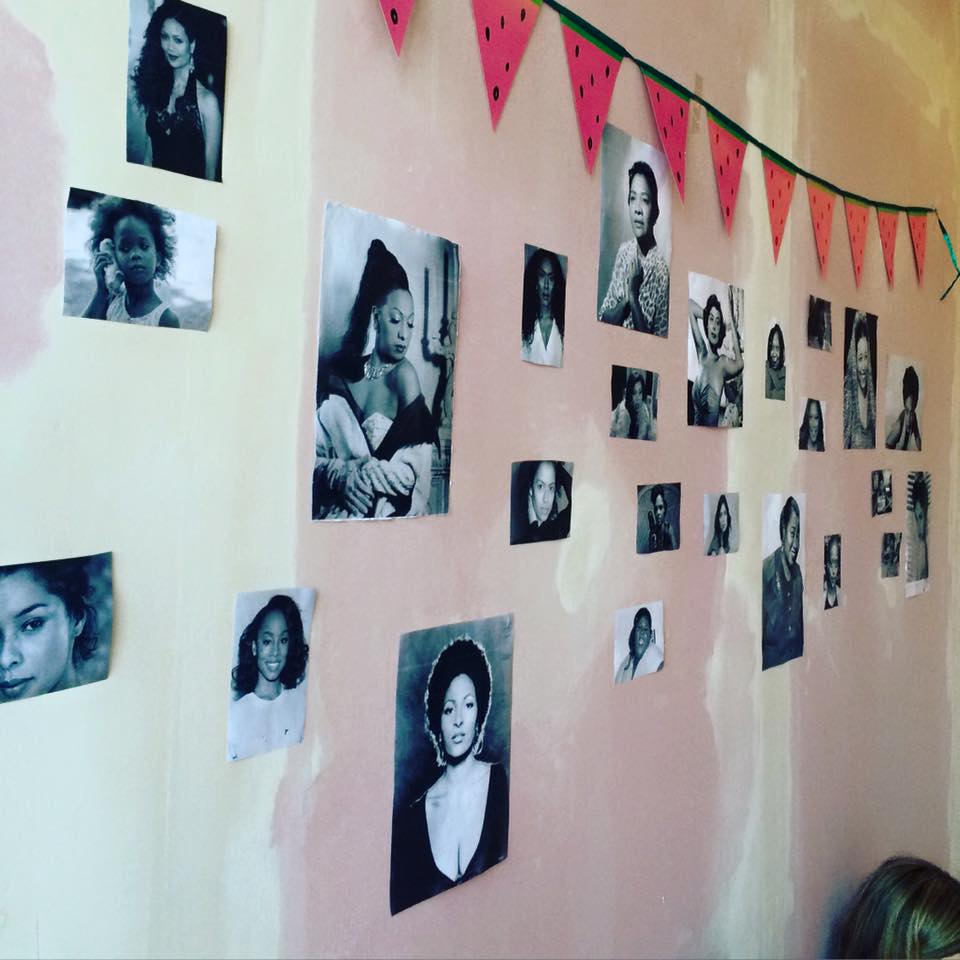 Some of our favourite black film actresses on the walls of the bar at Deptford Cinema, September 2015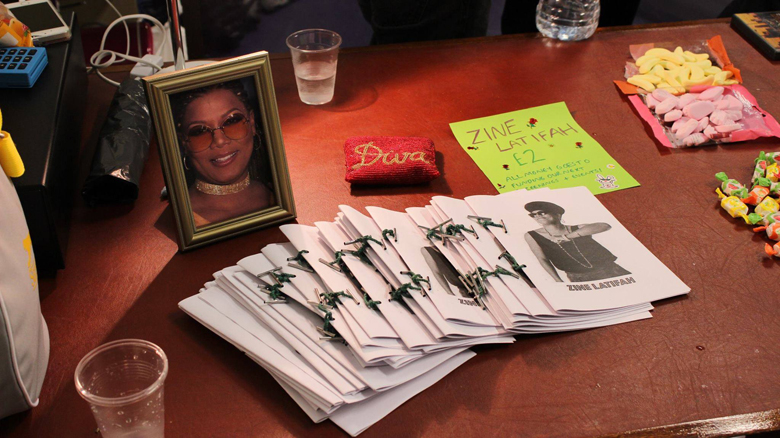 'Zine Latifah', a zine about Queen Latifah made by contributors, sold at London Fields Free Film Festival, October 2015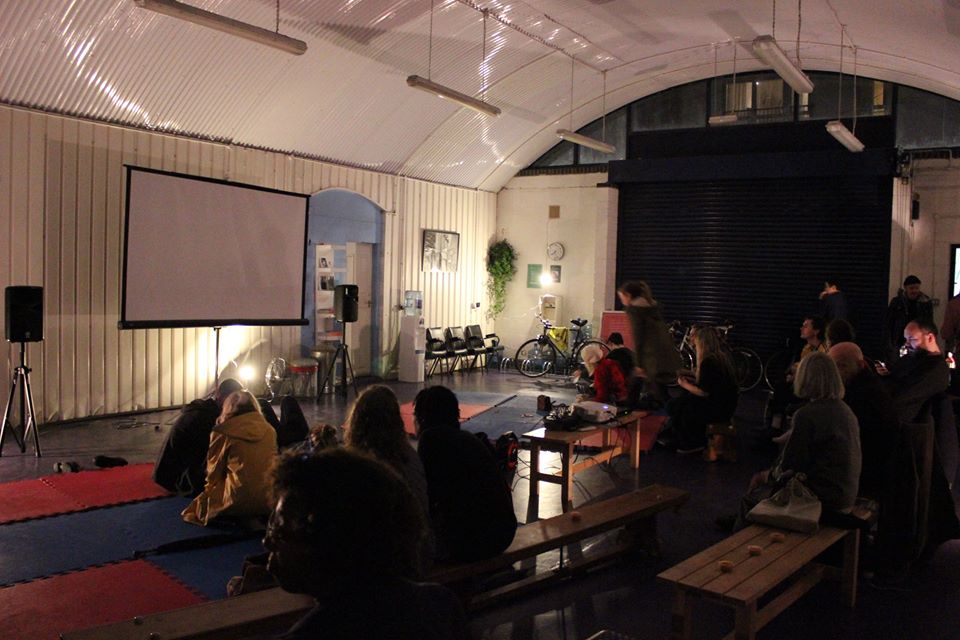 Screening of Set It Off at London Fields Fitness Gym, as part of London Fields Free Film Festival, October 2015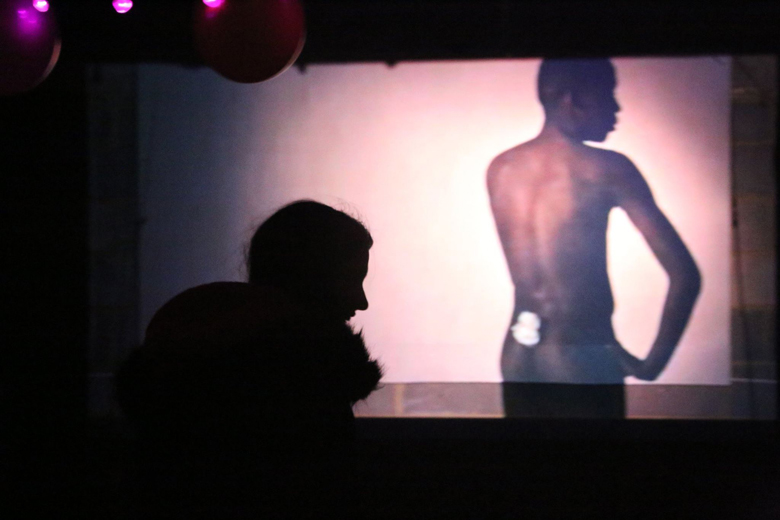 Cakes Da Killa's Goodie Goodies music video, directed by Ja'Tovia Gary, shown at Music Video Party, January 2016.
Reel Good Film Club
Grace Barber-Plentie and Maria Cabrera
Reel Good Film Club is devoted to celebrating people of colour in all aspects of cinema. Our aim is to put on screenings and discussions that do not conform to the rigid and elitist canon of film. We seek to create affordable and inclusive spaces for people to discover and enjoy films.
We started our film club due to wanting to see a film, Charles Burnett's Sidewalk Stories, the trailer for which we saw at a Scalarama call-to-arms in 2014. As first year film students moving from Brighton to London, we gorged on the number of screenings and film-related activities Scalarama hosted, taking the opportunity to attend these as well as the chance to become part of a community of film lovers. The support of the team at Scalarama also made us realise that the field of programming and curating could be more accessible than we once first thought.
Our urge to watch Burnett's film and to see it on the big screen is attached to the lack of black and brown faces in our university curriculum and in the cinema. While lack of diversity in the film industry is a huge issue, before attending university we were not aware that it was a problem at an academic level too. Throughout our degree the lack of diversity has been extremely disheartening, therefore running the film club has been an attempt to counter this. One of the few films by a non-white director that we studied at university, Cheryl Dunye's The Watermelon Woman (1996), made such an impact on us that we chose to show it as a collaboration with the Bechdel Test Fest at Deptford Cinema in September 2015. Much to our delight, our initial screening sold out so quickly that we added a supplementary (also sold out) second screening, as well as a panel discussion. These screenings have been some of the most rewarding experiences our film club has had so far. It has proved, as we believed when we set up the club, that people do have an interest in the types of films that we are passionate about - films that defy the labels of "good" and "bad", but seek to represent people of colour in new, truthful, and interesting ways.
Linked to our film club is also the great need for cinema to become more accessible to others. We find it strange that world cinema and films by people of colour (of the few that get distributed) are so often inaccessible to anyone who can't afford high price tickets. Hence, part of our ethos is to organise free or non-profit screenings. In doing so, we hope to be able to open up discussion outside of what can be an elitist cinema circle in London, in which discussion of race in film is a rarity, and where the welcoming of people of colour into these elitist spaces remains problematic. Fighting this lack of accessibility is crucial to us. The elitism creates a division in film viewing between those in the know and those that have not been welcomed. The ethos of Deptford Cinema, the first cinema in Lewisham, chimes in with what we seek to do by being a space in which people can take ownership of what is screened. How the cinema is programmed reflects the community. We both believe film is a powerful tool to kick-start discussions and to bring people together. Everyone should be given an equal opportunity to watch film. The majority of our upcoming events will be held at Deptford Cinema for this reason.
The debate regarding the insidious whiteness of the Oscars has resurged once again, however we're no longer surprised (especially after the erasure of Ava Duvernay's directorial work and subsequent acknowledgement of the performances in Selma last year). A particular quote that was the starting point for a group project at university entitled 'Third Space' was bell hooks on avant-garde film. 'Third Space' sought to celebrate the innovative moving image artwork by female-identifying women of colour.
"Embrace the avant garde/experimental. Here is where we'll find radical possibility. We can deconstruct the images in the mainstream white supremacist capitalist patriarchal cinema for days and it will not lead to a cultural revolution…"
Similarly, we would rather not dwell on the Oscars and instead put our energy into creating our own spaces and expressing our creativity in our own communities. This urge has been central to the screenings and events we hope to put on this year. Part of this has been trying to see different ways in which people can view and relate to moving image as well as how programming can become a collective activity. This included our recent Music Video Party (in collaboration with Polyester Zine), a nostalgic look back at the RnB, Hip Hop and Pop music videos that were around when we were younger, alongside the recent work of other new female-identifying and queer artists of colour. Attendees were also invited to choose what went on the screen. Our future plans also include the launch of a zine, Reel Love, on the 17th of February at Deptford Cinema. For this zine we are seeking people of colour to collaborate with us and either write or create art based around their favourite films, in order to examine the ways in which people of colour see representations of love on screen.
However, as a film club, we also want embrace mainstream film in order to discuss the ways we, as viewers, can subvert a film's meanings and find pleasure, as well as question what we see on screen. With regard to not dwelling on the whiteness of The Oscars, we also plan to co-host a screening on Oscar night with WoC Film Club. We have made a selection of films that we personally believe should have been nominated for awards at this year's ceremony. Attendees will be able to vote online for the film they wish to see most and we will then screen the winning film. Although some of the films in our selection are far from being unproblematic, it is important to seek out and celebrate the incredible work made by and about people of colour, including the actors in them, even if they are not seen to be "good enough" by The Academy.
We hope to continue hosting screenings, having discussions and collaborating with other collectives. We're excited about how much we've grown as a film club since we began in 2014, and we hope that the film industry can also begin to change in a way that can accommodate groups like ours, as well as allow more chances for gifted people of colour to create works that can be appreciated by a mass audience who are clearly hungry for diversity.