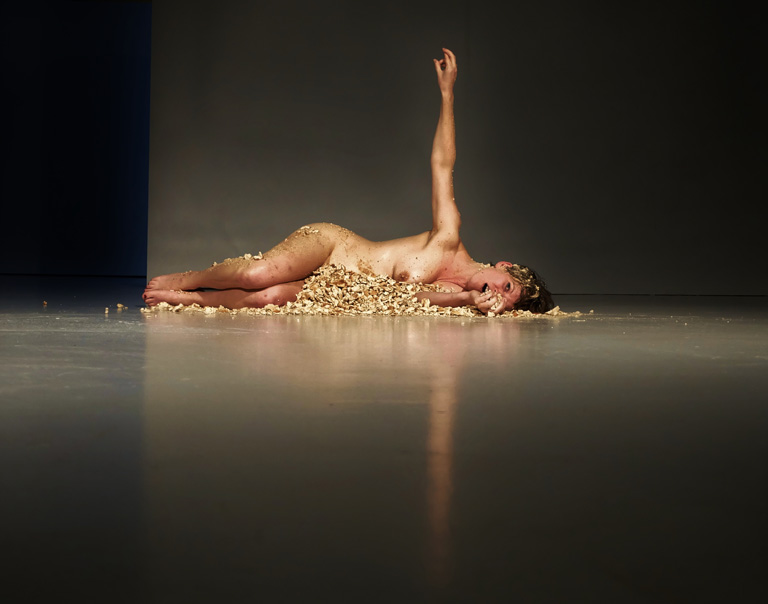 Impossible (Defibrillator Performance Art Gallery, Chicago USA 2014). Photo: Tongyu Zhao.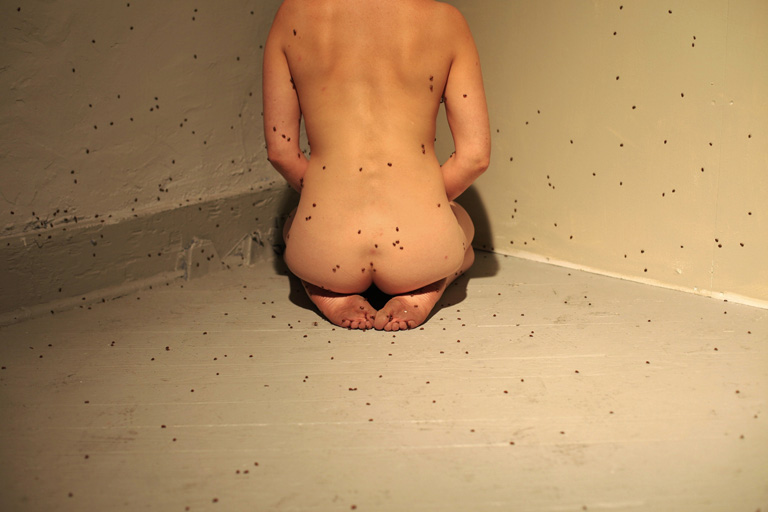 Inner Parameters (Corner Piece) (Grace Exhibition Space, New York, 2014). Photo: Miao Jiaxin.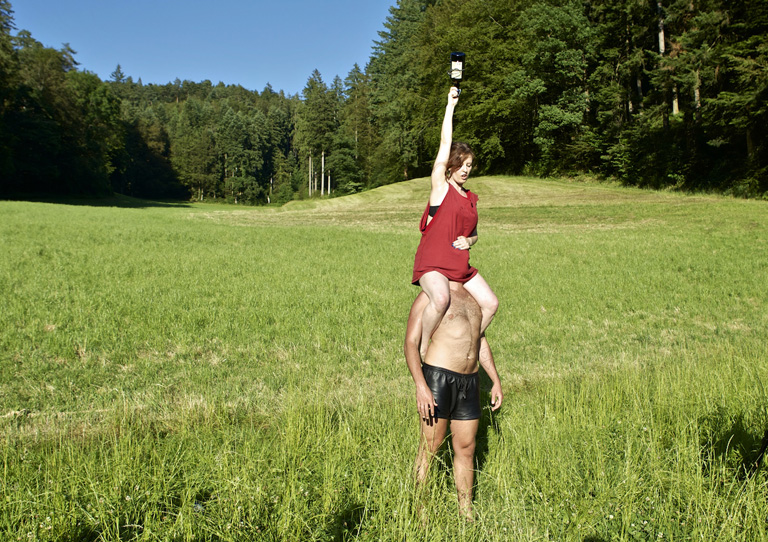 Dual (Collaboration with Benjamin Sebastian, FWD International Festival of Performance, Switzerland 2014). Photo: Rob Nienburg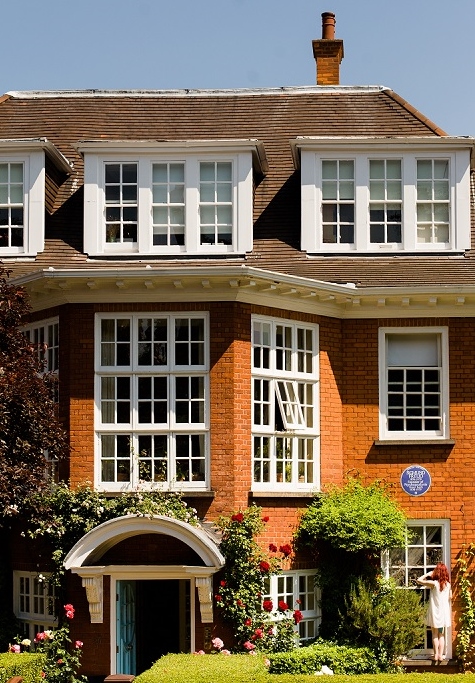 Accumulations (The Freud Museum, London 2013). Photo: Marco Berardi.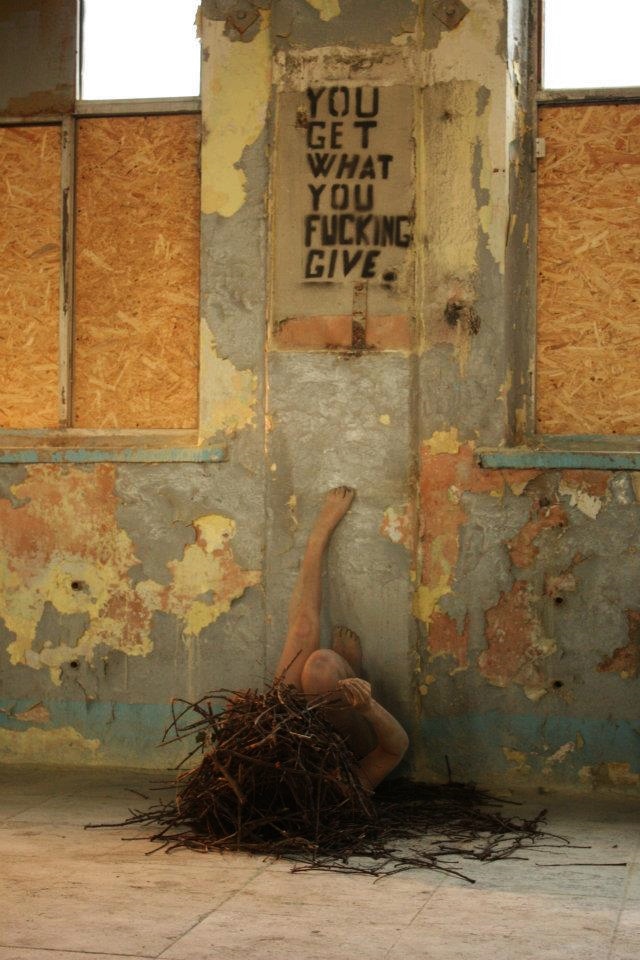 Needle in the Hay/Adata Sieno Kupetuj (Fluxus Ministeria, Lithuania 2012). Photo: Darius Daškevičius.
Death Butoh (2014). Monoprint. © Poppy Jackson.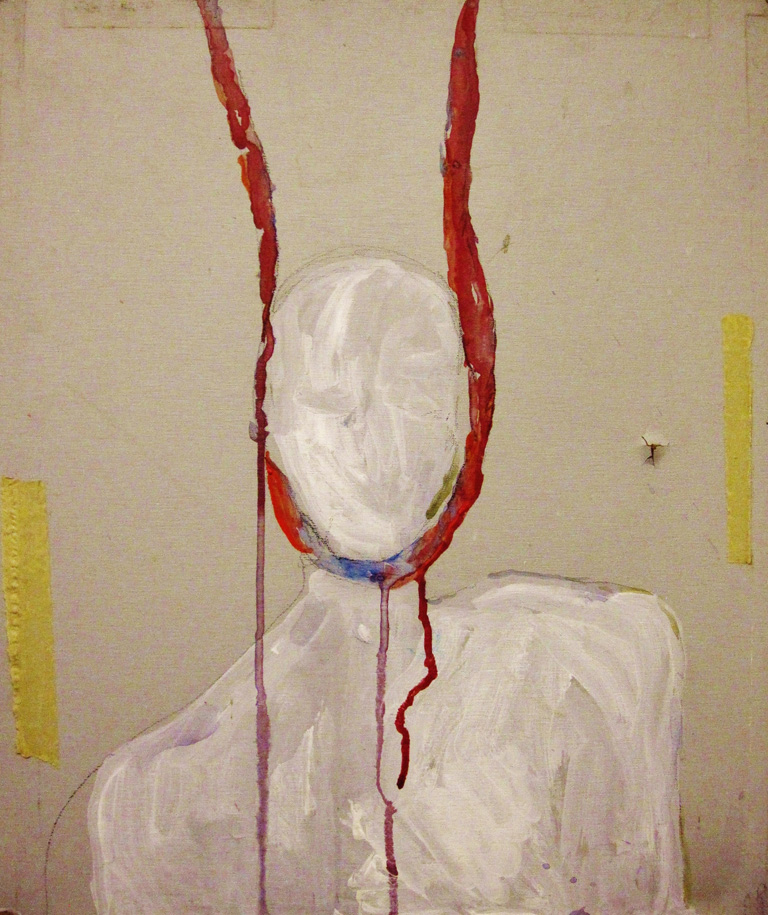 Red Feelers (2012). Emulsion, pencil & gouache on found board. © Poppy Jackson.
The Female Body as an Autonomous Zone
Poppy Jackson
I am a performance artist whose practice spans drawing, printmaking and painting. My work investigates the female body as an autonomous zone. I use 2D media to chronicle and process my daily experiences, generate ideas, or provide an alternative outlet for concepts that are physically impossible. This groundwork feeds into my live, actionist performances. I view these as potentially transformative or alchemic interactions between materials, my body and site.
I consider the use of the body in performance as an activist practice. Making work that explores the (what I deem to be miraculous) realities of female embodiment, within the context of our patriarchal culture, activates my body's inherent political potency within our society. My live works aim to simultaneously present the female body in the process of claiming space, while itself existing as deterritorialised space. In addition, these action-based performances provide an opportunity to self-exorcise any involuntarily internalised misogyny.
A physical practice developed out of my background in painting, in which the body was primary focus and the act of making considered performative. My mother was an artist and my father a hospital porter, so I grew up captivated both by painting and human physiology. My artwork combined these interests, with the bulk of my output being figurative drawings and paintings that amalgamated inner and outer elements: lungs, heart, digestive or reproductive systems, facial features or hair; intermixed with symbolic or psychological elements alluding to my consideration of my body as an autobiographical archive.
During my BA, my paintings increased in size and began to incorporate my body. Through these pieces I was investigating the materiality of the substance of paint and the process of painting. I analysed my painted marks as a direct record of physical activity, my mental absorption in the task of painting, and the traces of paint left on my skin and the surrounding area. These studies concluded that paintings exist as documentation of performance. Paintings directly capture the energy of the creative process - being far more connected to the artist's actions and body than any photographic performance documentation could be. The next development was to expand my definition of paint to include bodily fluids. Perhaps the fact that the human body is 70% liquid explains why painting relates to and captivates us so strongly.
I studied Visual Performance under Roddy Hunter, Gillian Wylde and Roger Burke at Dartington College of Arts, a hugely influential institution that I feel extremely privileged to have attended. Here I was introduced to the work of such artists as Andre Stitt, Alastair MacLennan and Anne Bean. The whole environment of Dartington revolved around critically informed, politically conscious performance. As a community it encouraged a lifestyle in which we were continually learning, challenging our practices and experimenting, through all types of extracurricular situations. Sinead O'Donnell's MA studio was next to mine and she became a close friend as well as an unofficial mentor. Once on the Ryanair flight to Belfast, Sinead undertook the performance action of gluing an Irishman's beard (shaved for Sinead's work) onto her face. I documented the air-hostess's questioning of this action and Sinead subsequently passing though passport control and customs, presenting her bearded self and passport to the airport's Border Control Officer.
I balanced the lessons acquired through practice-based research with study into anatomy, biology, shamanism, anthropology and art history in Dartington's Library. Here I discovered anthropologist Victor Turner's texts on 'Liminality' within tribal ritual and began to apply his theories to my own field. This later influenced my project Liminal Bodies (supported by The Live Art Development Agency, CAZ and ALIAS), a network for artists with a nomadic practice. Members were initially bonded through events that took place in hotels, urban transitory spaces and during journeys. The project explored states of 'borderless-ness', migration, and applied methodologies for working in transit. Liminal Bodies resulted from my own experience of a mobile existence, necessitated by a combination of the financial constraints of living as an artist and a compulsion for continual relocation.
In order to apply this work back to the body as site, I fused Turner's text 'Betwixt and Between: The Liminal Period in Tribal Ritual' (1967) with Patricia McCormack's 'Becoming Vulva: Flesh, Fold, Infinity' (2010). Together, these articles presented the vagina as a corporeal manifestation of liminal space. The vagina incorporates all Turner's qualifying characteristics of a liminal site. These include: a threshold entrance into tubular internal space; potentially expansive boundaries; mediation between interior and exterior territories; a relationship to fluid mediums and birth; and the dissolving of clear demarcations and boundaries. These points are echoed by MacCormack's attributing of a visceral 'manifold multiplicity' and an 'active infinite unfurling' to the complex folding of the labia. The culmination of this research was the compilation of the work of over 40 artists, ecosexologists, architects and theorists, in the online publication 'The Vagina as Autonomous Zone' (2010).
In 2011 I was invited to become an Associate Artist of ]performance s p a c e[ in London. ]ps[ is co-run by Directors Bean and Benjamin Sebastian as a non-profit project space for the research and dissemination of performance art that lies outside mainstream education and gallery structures. ]ps[ has provided a supportive community and challenged and nurtured my practice in numerous invaluable ways. The space and the network of artists it draws together have become a base for me and my frequently transient practice that feels like a home.
An interest in making work in the public realm lead me to co-found and manage SITE/SPACE with performance artist Andre Verissimo in 2013. SITE/SPACE is a monthly open platform, offering a psycho-geographic, peripatetic approach to generating performance. Our site-responsive events in contested urban sites have enabled me to explore the relationship between the female body and public social space and the inherent tension in the public/private dichotomy.
The personal significance of performance is as a 'life practice' of continual learning; melding action with time and space using my body. As an artist I have to be aware that this body is a loaded entity - being fairly young-looking, petite and female, my body is an 'acceptable' target for sexualisation and objectification within our culture. Sometimes the content of performances demand nudity, for instance to allow more direct, sincere and authentic interaction between body and material, or to remove any excess filters through which the piece will be viewed, or because the topic of the piece requires this. In this instance my responsibility as an artist dictates that I have to be aware of, and attempt to tackle, the baggage of the objectification of the female body within the wider social context in which we exist, as this may impact on my viewers' perception of my piece. I do this by presenting a body that is very clearly active and acting for itself on its own terms, and employ tactics such as maintaining eye contact with viewers as they enter the space. As I stated before, the female body can easily become a radical, political and activist body because shame or censorship are conferred on many of its natural functions within our culture.
My current project, Transatlantic Performance Practice, supported by the British Council and Arts Council England, was presented at Grace Exhibition Space (New York), Queer New York International Arts Festival, Defibrillator (Chicago) and The Live Art Development Agency (London). The project will be also presented at MART in Dublin and MPA Berlin this Spring. TPP was a research project into feminist body-based live performance, resulting in the creation of three new performance works shaped through exchange and dialogue with equivalent feminist performers in the US and the establishment of a cross-cultural network of counterpart practitioners across the Atlantic. My process involved actions such as menstruating on Brooklyn sidewalks, performing with 1000 ladybirds, sprinkling public hairs throughout MoMA (a homage to a Jean Michel Basquiat action made in the museum), and incorporating a Chicago alley pigeon into my final US performance.
Artists I am influenced by include diverse practitioners such as Kiki Smith, Gunter Brus, Victoria Gray, Mark Greenwood, Baselitz, Dieter Roth, Bean, Hugh O'Donnell, Giovanni Cimabue, Fra Angelico, Benjamin Sebastian, Pipilotti Rist, Heather Cassils, and Marlene Dumas. I am also inspired by current affairs and everyday interactions. For the last seven years I have used my post within Tate Modern's galleries as a form of education into contemporary artwork and its curation. I also greatly value working with younger artists, one aspect of which is mentoring recent graduates from Norwich University of the Arts.
Part of my creative process, and an element in live works, is the application of a methodology of violence as a transformational catalyst. My interpretation of the word "violence" is a denotation of the friction crucial for the birth of anything new. Every piece I show is a question mark; each performance has specific and substantial personal significance and I undertake it in order to work something out. I deliberately don't plan or rehearse every detail and put something at stake in the execution of the work. Elements of risk and unknowing make the live performance more present, inclusive, raw, honest and transformative for both performer and audience. I think of each piece as if I am getting married - with the same amount of importance attached. My plan for each performance changes right up until its delivery because it is imperative for me to never close down the process of learning. Thus, this process goes right up to, and exists within, the point of presentation, making the work the most vital it can be.
I am always hesitant to write about my work, as the permanence and rigidity of text seem to act against the continually fluid nature, changeability and unpredictability of performance/life. I allow myself, my work and my opinions to live in constant transition as I learn, in a state of flux and continual discovery. In addition, specific pieces within the proliferation of text that surround the performance field, suggest that performance artists are required to 'justify' or 'validate' our actions with critical texts and theory as if otherwise we would just be considered crazy. Therefore this document may form an accompaniment to my practice that exists separately from it and merely forms one prism through which to see my work, and a record of my current thinking at this time.
www.poppyjackson.co.uk
www.mazjacksonart.com
www.liminalbodies.tumblr.com
www.issuu.com/bludzer0/docs/thevaginaasautonomouszone
www.performancespace.org
www.sitespacehome.wix.com/sitespace