Issue 02
The theme for this issue of Orlando is discourse. The themes have always been deliberately capacious and open to interpretation, in order to allow for broad and nuanced responses. This issue is no different, intending to consider discourse as a means to explore ways of organising and sharing knowledge, experience, ideas, and also a way of re-writing knowledge, of communicating the silenced, the obscure, the unknown. In the era of Brexit, of Trump, of rampant nationalism, it has never felt more necessary or urgent to resist oppression, disrupt the canon, open borders, and breathe air into the foul-smelling echo chambers of bigotry and prejudice. Crucially, we also need to know when not to speak, and to think about listening, and how to elevate the important voices that are insidiously silenced by society. Orlando cuts through the noise of clickbait trolls and is an antidote to the 'post-truth' mainstream media. Publishing is a form of collective action, and discourse is an avenue in which to encourage radical conversation and critique. The articles and artwork in this issue consider and communicate ideas of amateurism and empathy, propose radical and alternative ways to experience multifarious identities, and consider how we can either academically analyse or casually converse about these new realities. The magazine at large is also inherently self-referential, by way of being a publication, and thus becomes it's own document and testament to a varied and passionate discourse.
Size: 270 x 195mm
64 pages text pages printed on 120gsm Arcoprint 4 page cover printed on 250gsm Novatech Silk, matt laminated
ISBN: 978-09548122-6-3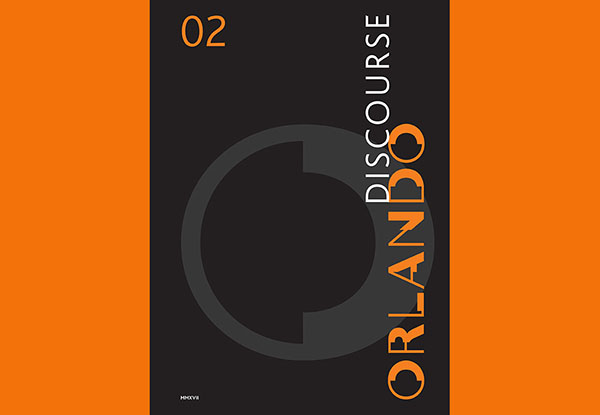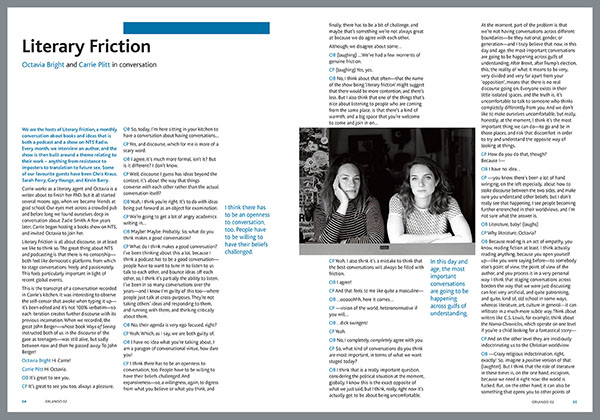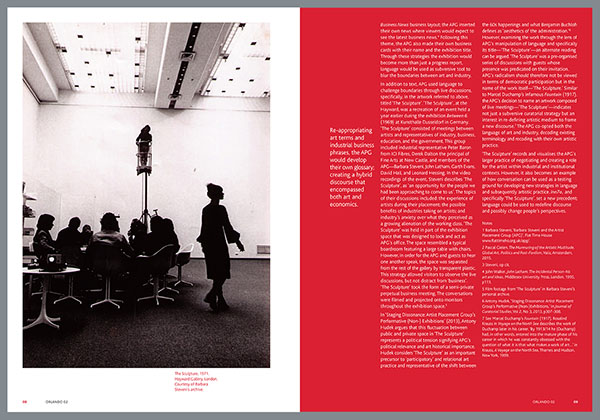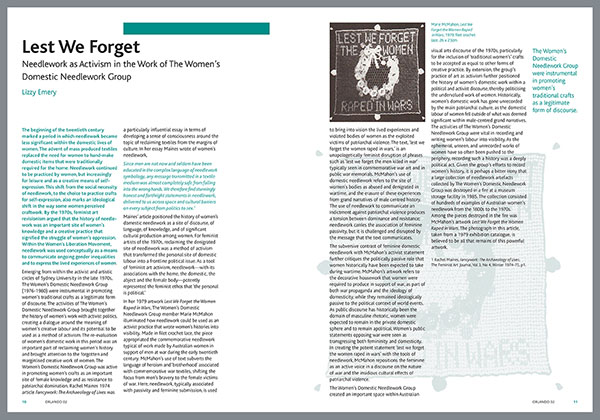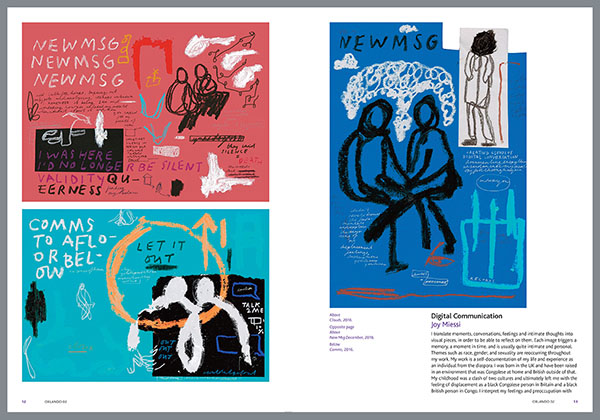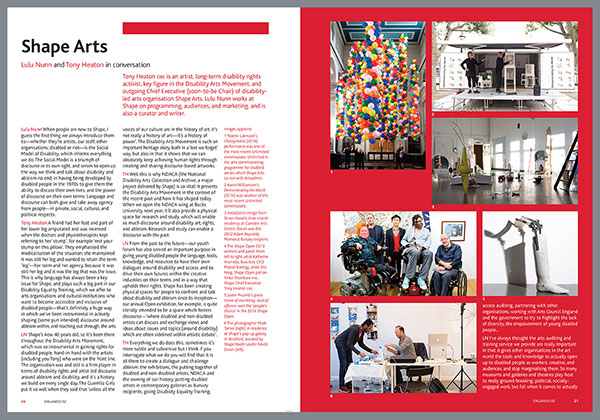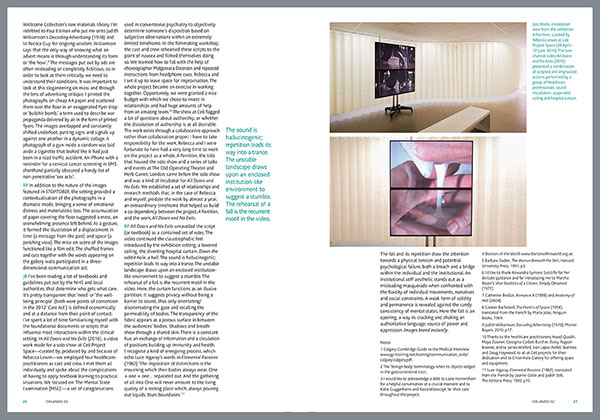 Contents
Editor's note:

Philomena Epps.
In conversation: Literary Friction
Octavia Bright and Carrie Plitt, co-hosts of the Literary Friction podcast on NTS, transcribe a conversation they recorded about having conversations – what makes a good conversation, and what conversations are important today.
The Sculpture: Language, Industry and Art in the Work of The Artist Placement Group
Katherine Jackson discusses 'The Sculpture' – an ephemeral 1971 work by The Artist Placement Group, which consisted of a discussion between artists and industrialists at a board table set up in the Hayward Gallery.
Lest We Forget: Needlework as Activism in the Work of The Women's Domestic Needlework Group
Lizzy Emery considers Marie McMahon's 1979 'Lest We Forget the Women Raped in Wars' work in relationship to the subversive use of textiles as a creative strategy of resistance within the history of women's domestic labour and in feminist movements.
Digital Communication
A new series of work by artist and illustrator Joy Miessi, which translates memories, conversations, feelings, and intimate thoughts into visual pieces, in order to reflect on them.
Art Magazines Reading Group
Philomena Epps interviews Keren Goldberg and Ashley McNelis, representatives from the Tel Aviv and New York Art Magazine Reading Group(s) respectively, about the history of the groups and what their reading practice entails.
Demonology
A new artwork from Francesca Blomfield that uses and re-purposes found text and image.
Shape Arts
Lulu Nunn in conversation with her colleague and outgoing director of Shape Arts, Tony Heaton OBE, about the Disability Arts Movement, social justice, and how providing opportunities and support for both disabled artists and cultural organisations can build a more inclusive and representative cultural sector.
Amateurism as Strategy
A co-authored text and expanded conversation between artist Jozs Bitelli and curator Rosanna Puyol which draws on and develops themes pulled from Bitelli's recent work, including amateurism, empathy, and the relationship between the medical subject and the body politic.
Cornerless Tomorrow
A long-form poem and photo-essay from the artist filmmaker Keira Greene.
The Four Becoming-Bots of the Apocalypse
Siobhan Leddy considers the implications of the increase in AI communication technology, specifically the development of AI interlocutors, and what the personal and political repercussions of these chat-bots are.
Queer, Fleshy Knowledge: Maggie Nelson's The Argonauts
Matilda Hemming explores the 'queering' of pregnancy that takes place in Maggie Nelson's 2015 book The Argonauts, thinking about how the book creates and interacts with political and theoretical forms of knowledge, and how to consider pregnancy in ways that don't reify biological sex.
On the Values and Pleasures of Gossip
George Mind interviews Gavin Butt about how gossip and the anecdotal can be interpreted as both experimental forms of critical discourse and as a radical and powerful form of knowledge.
The Women's Art Library
An image-led essay from Althea Greenan, curator of the Women's Art Library, about the history of the slide archive, and how contemporary feminist artists have responded to the collection through their artist-in-residence programme in myriad ways.
Again, but with feeling: Traumatic Re-enactment in the Work of Faye Green and Gerard & Kelly
Lauren Houlton explores how the artists Faye Green and Gerard & Kelly re-enact past events and performances in their work as a means to open up history to structures of collective belonging, and to engage with bodies and identities that have stood outside art history.
Octavia
Rachel Long writes about setting up Octavia - a poetry collective made up of fifteen women of colour. Her words on the collective are accompanied by poetry from three other members of the group - Victoria-Anne Bulley, Hibaq Osman and Amaal Said.
Chick Flicks and Samizdat Documentaries: How B. Ruby Rich Shaped and Documented a Transnational Intersectional Feminist Film Discourse
Selina Robertson and Sophie Mayer from Club des Femmes celebrate B. Ruby Rich's past and present contribution to queer feminist film discourse.
Consent is Fucking Sexy
Holly Doherty interviews Chloe Cooper and Phoebe Davies from the Bedfellows collective about their 2016 residency at Tate Exchange, and how it intersects with ideas regarding consent, education, pornography, and sexual education and agency for all genders.
Chocka
Images from Katie Shannon's Chocka (2016) series, previously exhibited at Voidoid Archive in Glasgow
Fuck Love
Lily Ashley's semi-autobiographical poetry and drawings are a reaction to the perceived moral obligations of women in western society.