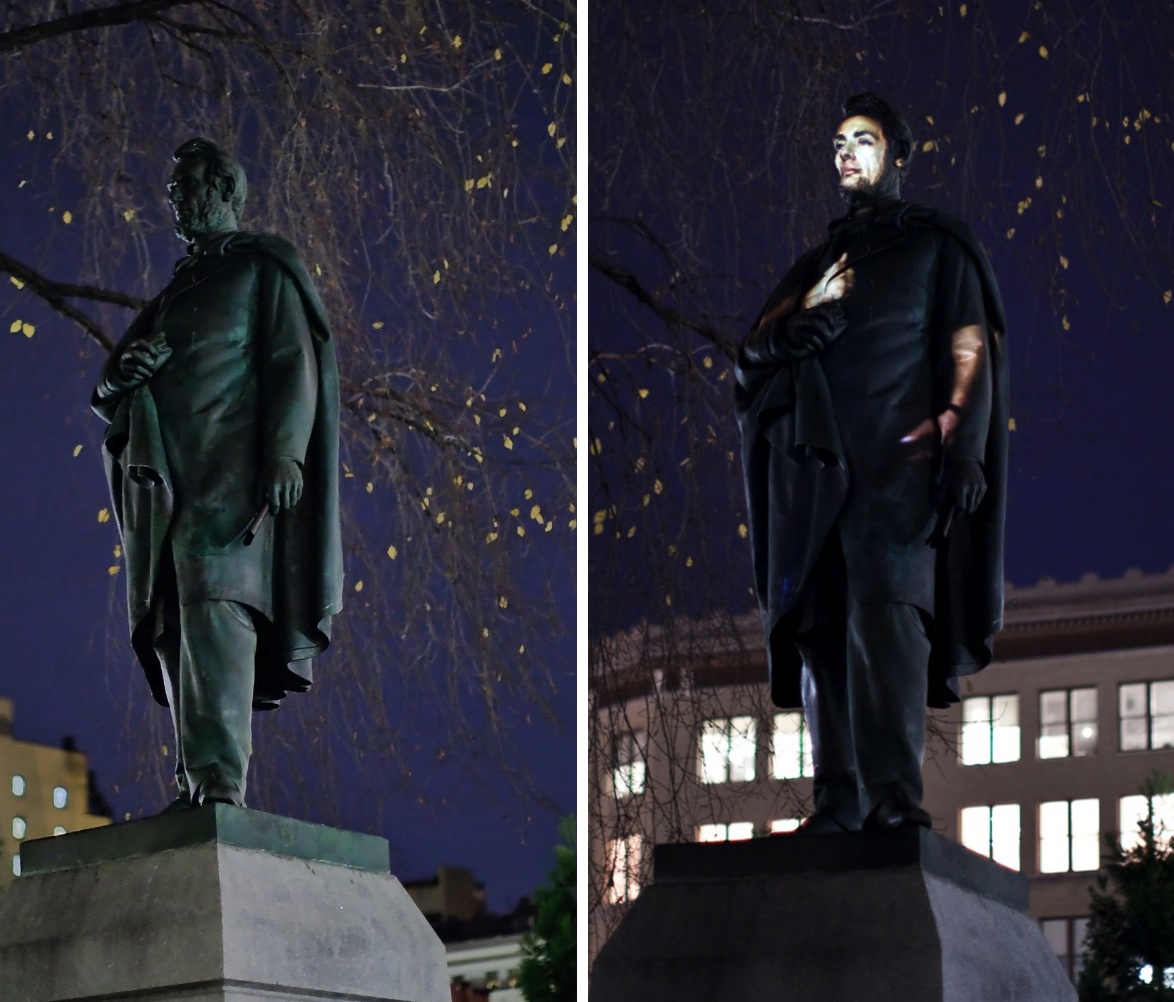 Abraham Lincoln War Veteran Projection, New York, 2012.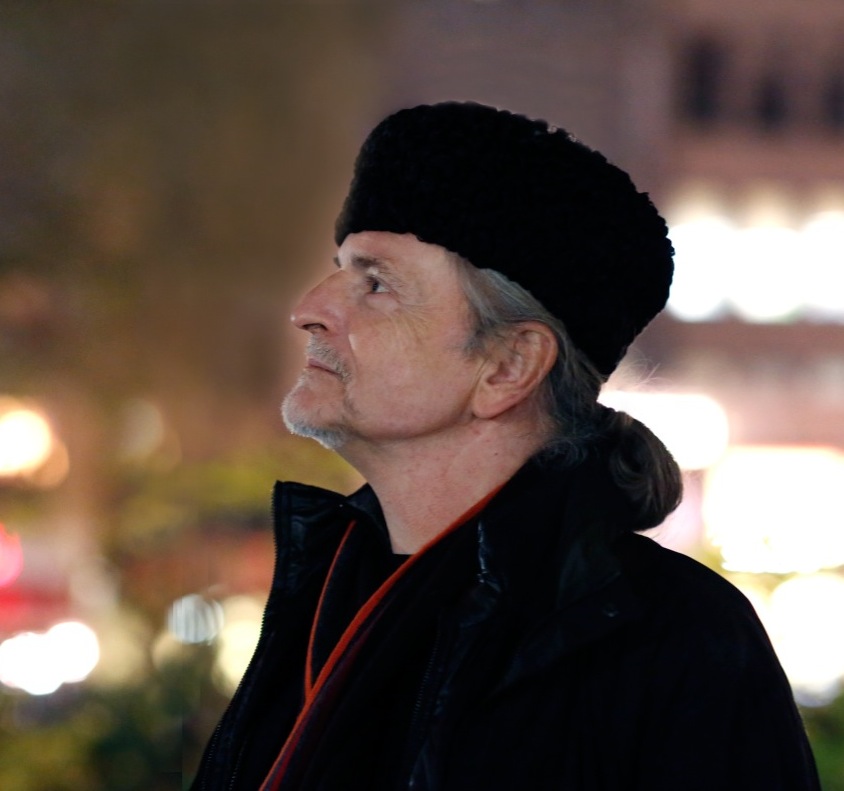 Krzysztof Wodiczko in Union Square Park, Abraham Lincoln War Veteran Projection, New York, 2012.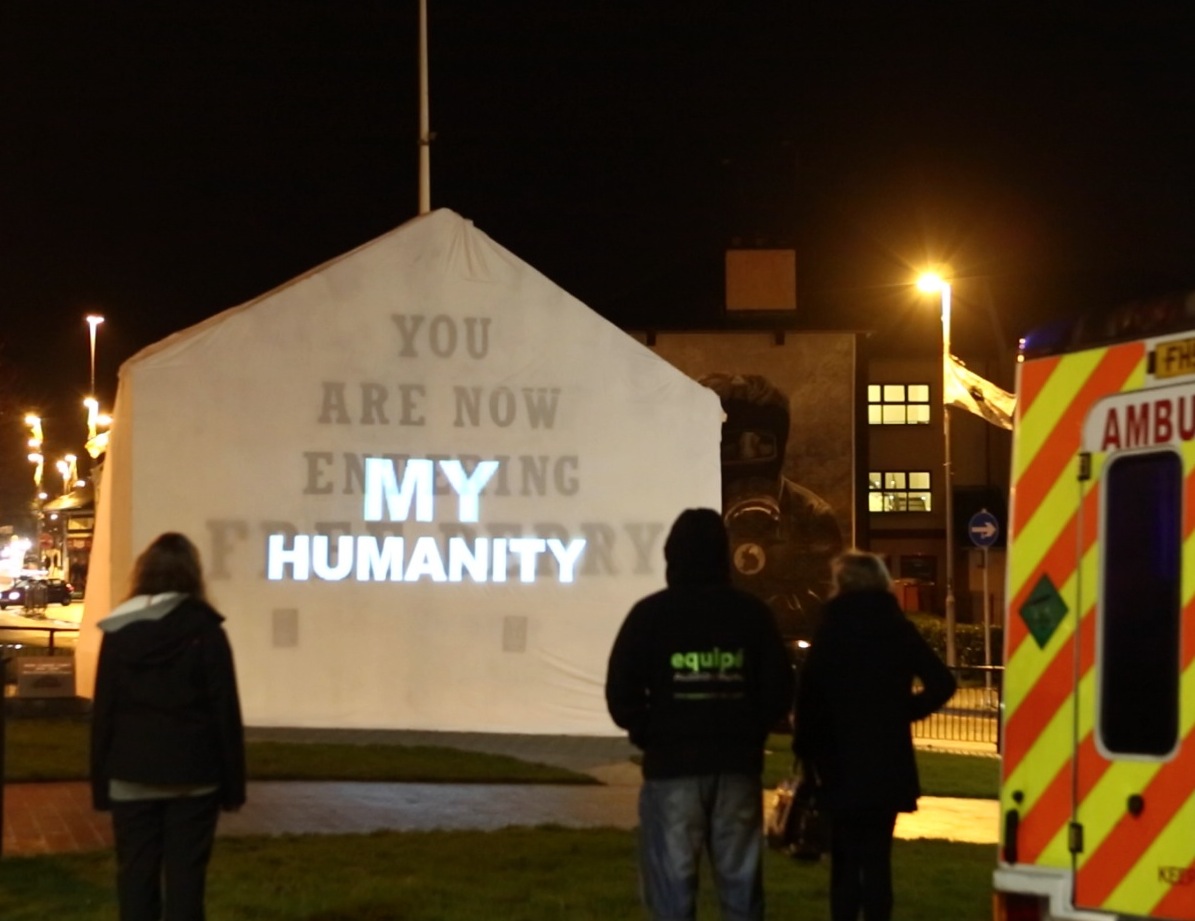 Derry Londonderry Public Projection, Northern Ireland, 2013.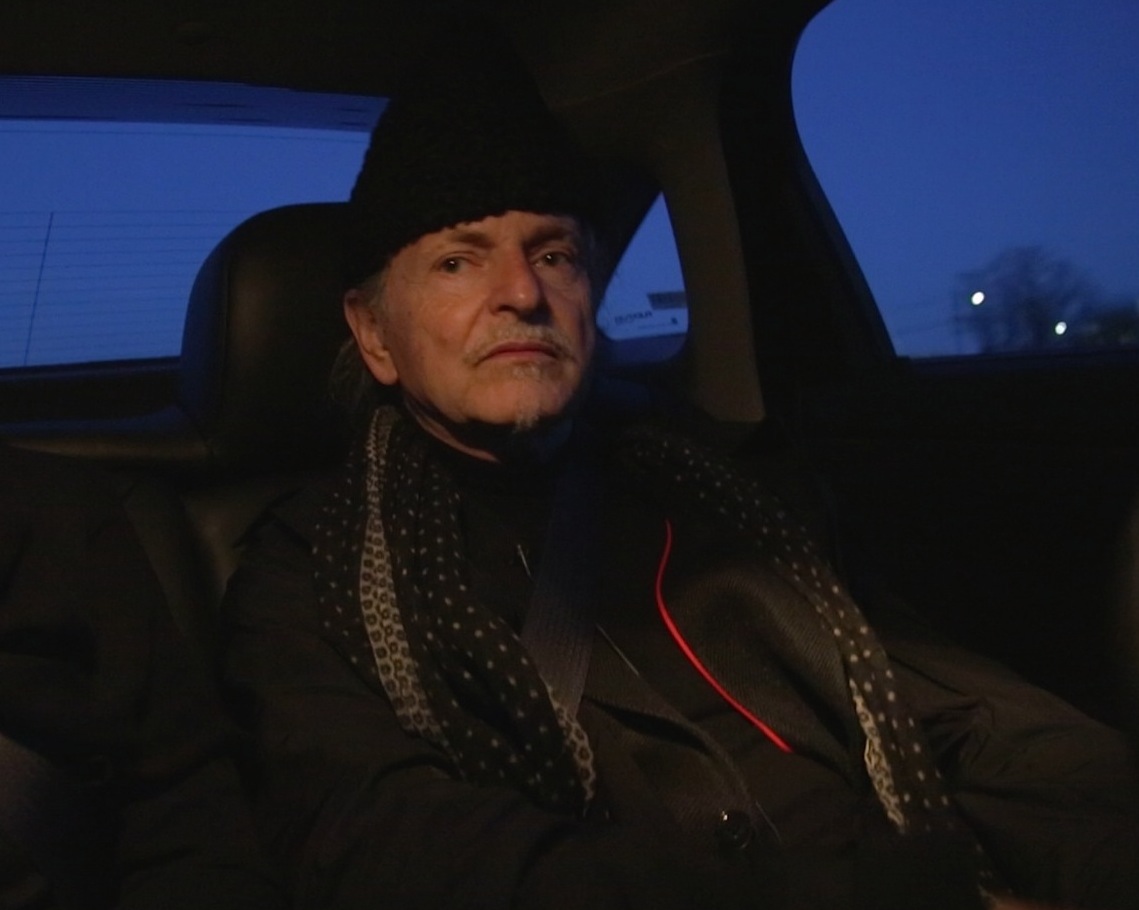 Krzysztof Wodiczko interviewed while riding in car, Long Island, New York 2015.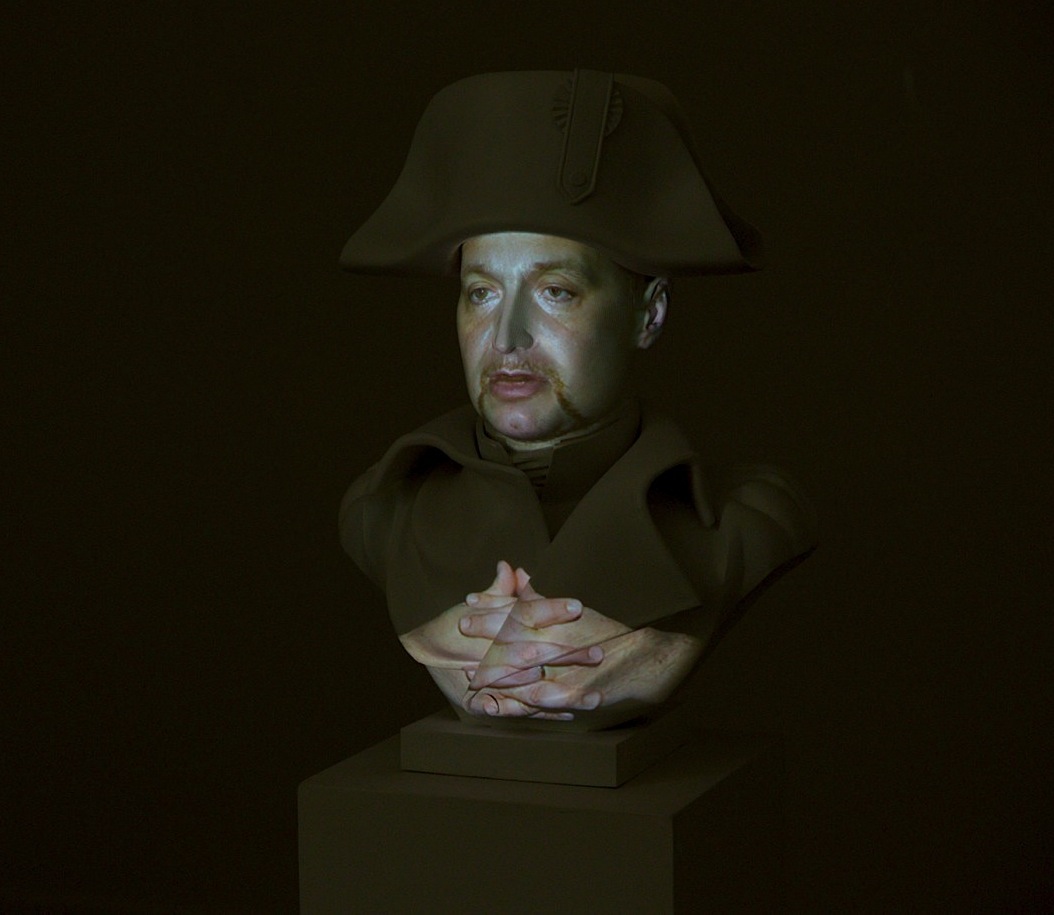 Invisible Wounds, Paris, 2014.
Queen Victoria Public Projection, Kitchener, Canada, 2014.
All images © Maria Niro
Un-War!
Maria Niro
I am a firm believer that the power of art can serve as an instrument of social change. Over the past three years I've come to witness this time and time again while filming the artwork of Krzysztof Wodiczko in Ireland, United States, France and Canada for my documentary 'Un-War!', a film about the artist and his political interventions. For over four decades Wodiczko has created unique and aggressive art interventions, which repurpose existing architecture and monuments as emblematic canvases onto which new art is created through video projections. His public projections, aimed for critical reflection and for public protest, are intensely radical and brutally honest in a way that inspires an intimate connection to the work and message.
Part of the reason of why I'm making the film has to do with how I first experienced Wodiczko's ephemeral projections, which can last from a few hours to a few weeks. It was a brisk fall evening in New York City in 2012. I was making my way across the busy crossroads at the north end of Union Square Park. The area is famous for happenings such as protests and political rallies, but something strange and eerie was occurring that night: the statue of Abraham Lincoln – often ignored in the hustle and bustle of city life – was transformed into a living, speaking being. I felt like I was in a lucid dream as I came in front of the statue and began to listen to what it was saying. Lincoln's face had become a screen of sorts - veterans of Vietnam, Afghanistan, and Iraq wars were recounting their experiences, sharing their wounds and their fears while being projected onto the Lincoln statue. As passers-by rush by in their commutes or on shopping trips, the statue talked casually about dehumanising experiences of war rarely heard: 'body bags are processed… organs removed, bodies sliced.... and then the bodies are sewn back up'. I became transfixed and completely absorbed by what I was seeing and hearing.
It was at the Abraham Lincoln: War Veteran Projection where I met Wodiczko. He stood among the crowd, wearing a Karakul hat that matched his serious expression. Anonymous to most, he was alternating between staring stoically at his projection and people watching. I realised that this was the same radical artist, who in the 1980s pioneered the large scale political slide projections onto monumental statues and architecture. He also created tools, which he calls 'instruments', that employ technology created specifically for homeless and immigrant survival, communication, empowerment, and healing. By the 1990s he had come to employ video of living survivors to animate these prominent facades and statues. This shift from still to moving images facilitated his ability to convey the powerful stories of the silenced: war veterans, immigrants, and refugees. His public art has now evolved to employ 3D mapping, which he uses to create these astonishing projections and to address critical social issues such a war, trauma, homelessness, and xenophobia among others. These works give the disenfranchised the opportunity to speak about their plights in open public spaces.
As Lincoln continued to speak to me, it began to feel like I had walked into someone's nightmare. The faces and hand gestures of the fourteen war veterans who animated the cold, static Lincoln became intensely real and theatrical at the same time. It was as if Lincoln was wearing the mask of the veteran. They gave detailed experiences that few of us have known. A sort of Brechtian montage, Wodiczko connected the living traumatised veterans with the frozen war hero, shocking us into a new recognition and understanding of the politics of war and trauma, or '(re)minding' us of what war is and is not, and its uselessness.
As a filmmaker my instinct was to return to the site night after night to document the event. I got to know the work and the individual over this period, and soon decided that I had to make a documentary film about one of the most interesting, avant­garde interventionists of our time. I was able to quickly form a bond with him and he has granted me unprecedented access ever since.
It is not just the striking visuals of his work that compelled me to create the film. In a world perpetually on the brink of war and conflict, it's imperative that the world at large experience Wodiczko's public projections. Not confined to sitting on walls in a museum, his art is alive. It is a social practice. It occurs in the moment, on the streets, in public spaces and urban centres all over the world. Each project is unique; the antithesis of mass-produced art. It is a momentary interruption and a once in a lifetime opportunity. The only way to experience it is to be present.
'Un-War!' unravels the mystery behind the 72­year­old media artist and explores the evolution of his work on conflict resolution and human rights over the past four decades – starting from his first intervention in Poland in 1969. The film will feature four recent urban interventions which I've filmed between 2012 and 2016, which employ 3D mapping, provide a framework for free speech, and seek to spark change. In addition to the Abraham Lincoln animation, the film will also follow Wodiczko in Paris where a Napoleon bust is animated with French soldiers and a veteran's spouse. Refugees from Iraq animate a statue of Queen Victoria in Canada, while former IRA members and city residents are animated on the walls of Derry and discuss getting caught in the crossfires during 'The Troubles', the ethno­nationalist conflict in Northern Ireland. At each of these projections we will feature in­depth interviews with the artist, curators, and project participants, who reveal the impact the work has had on them. Behind the scenes footage reveals how Wodiczko creates these politically charged public interventions by building relationships with individuals and groups, and connecting the audience with his socially engaged art.
Even with a PBS Art 21 piece and a 1991 National Film Board of Canada documentary on Wodiczko's slide projections during the 1980s, much of the artist's private life and motivation remains a mystery. 'Un-War!' unravels a deeply private artist and his practice. The film will be of special interest to students, artists, war veterans and their families, peacekeeping organisations, activists, and anyone interested in the intersection of art, politics, and design. I believe Wodiczko's work is some of the most important of our time. His ephemeral art, which lasts only a few hours, will be given a permanent and significant place in our cultural memory through this documentary.
My team and I are now in the process of fundraising for the next and final step in this documentary journey. Like most independent documentaries of this kind, it has been a labour of love, and so public participation is fundamental. Please join us in with a contribution that will help document one of the most creative and original artists of our time, who has dedicated his life to using art as a powerful tool for democratic speech and healing.
www.un-war.com