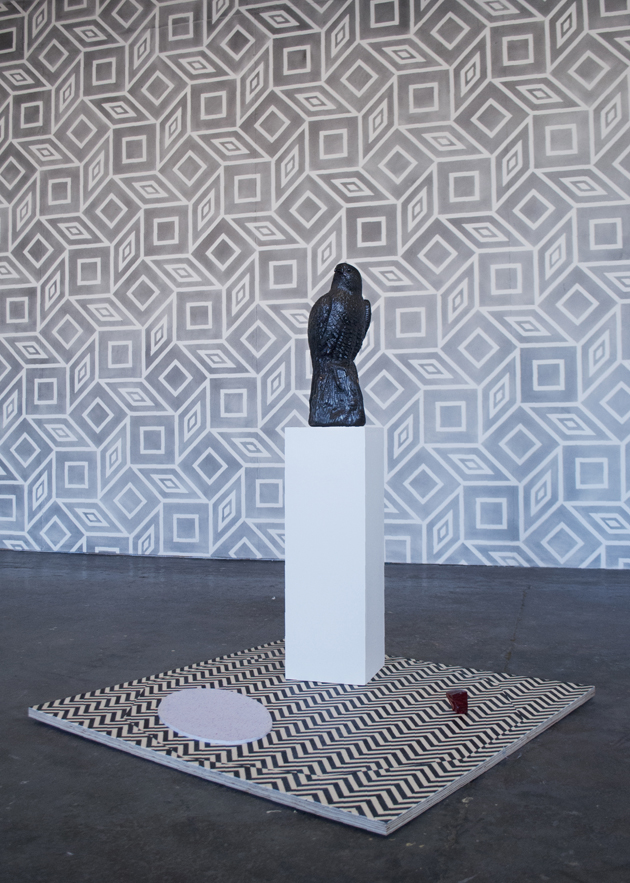 All at once (doppelgängers) (after John Lumb) (2014). Anthracite coal, polyester resin, glass, silicone, linoleum, plywood, buffed graphite on wall.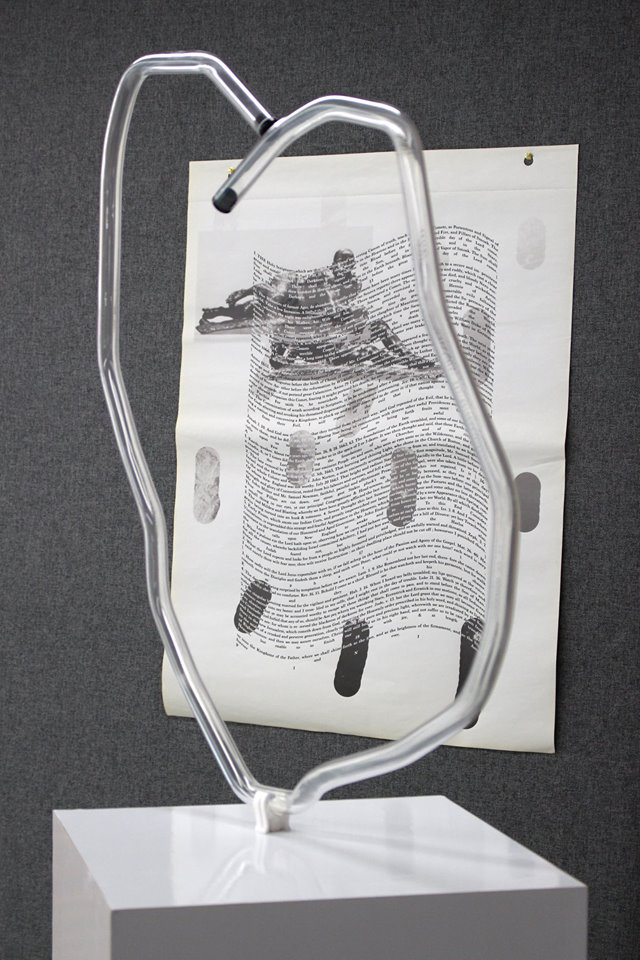 An Illustrious Monument to the Prophet Daniel (in true enlightenment fashion) (2015). Acrylic pipe, whiteboard, digital print on flipchart paper, drawing pins, Camira Cara 'Portland' fabric.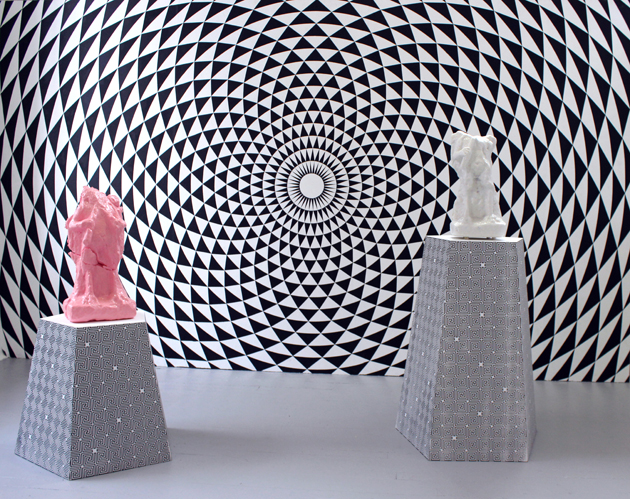 NYMPIS (2013). Polyurethane foam on screen printed plinths, wall painting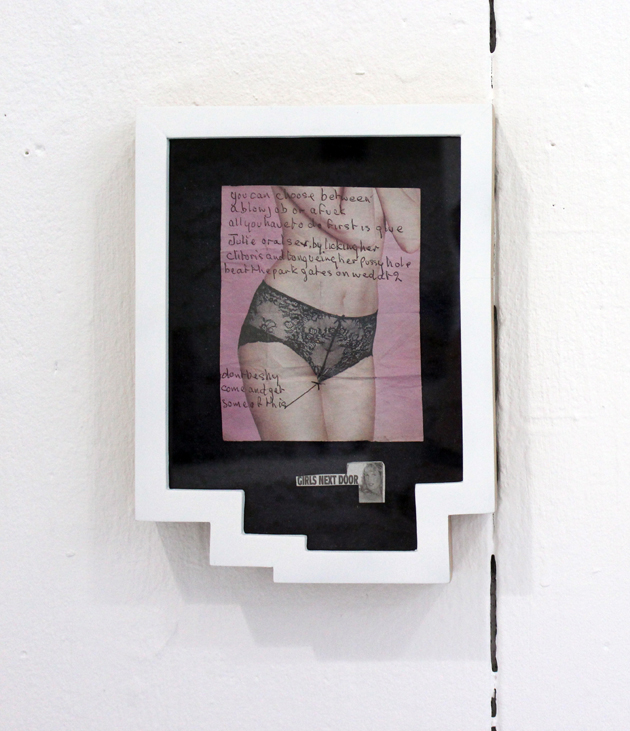 The Julie Mythos (blowjob or a fuck), ongoing.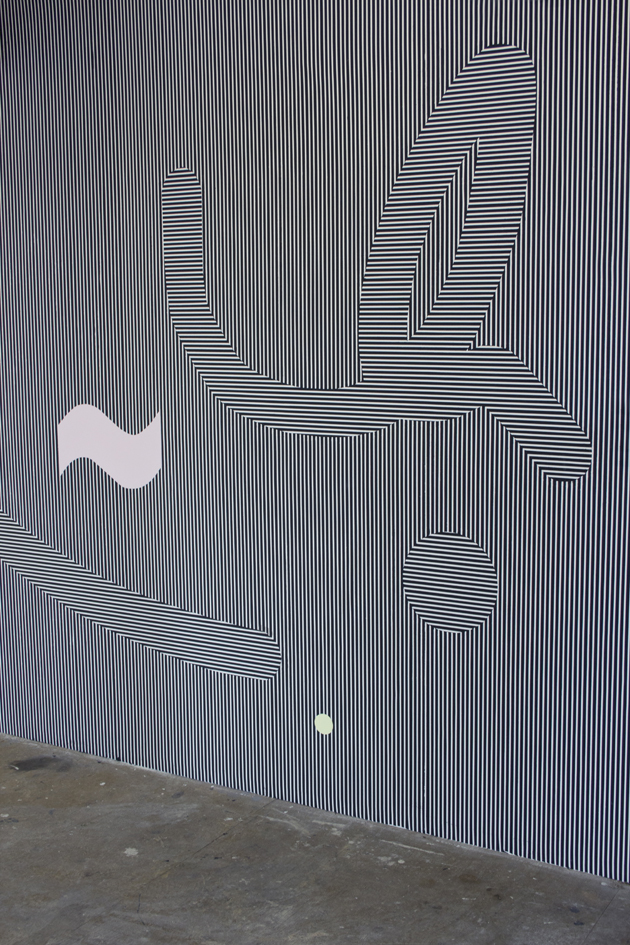 Time Slip (2014). Wall painting detail.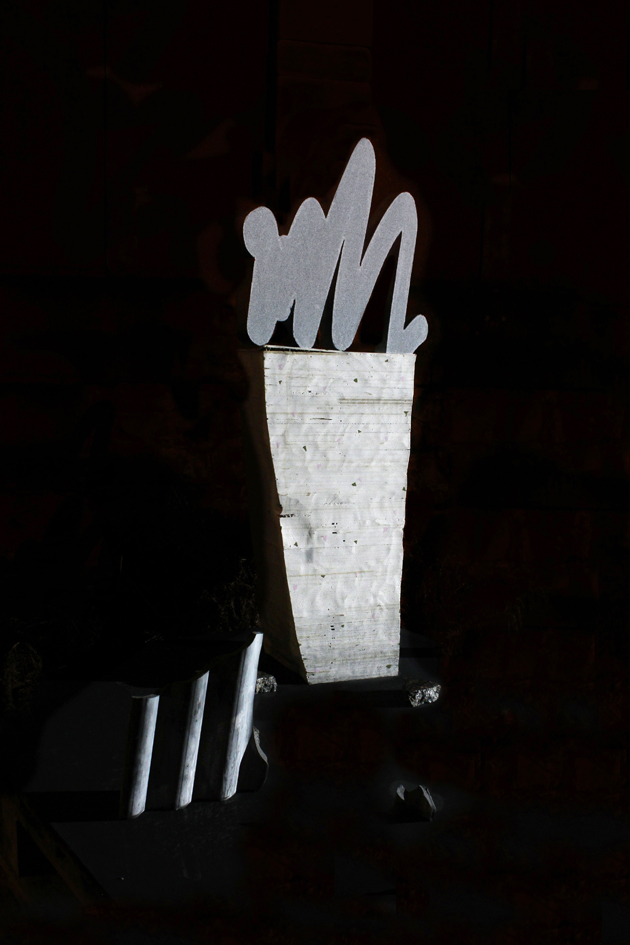 Untitled (2014). Granite, plywood, Cuprinol.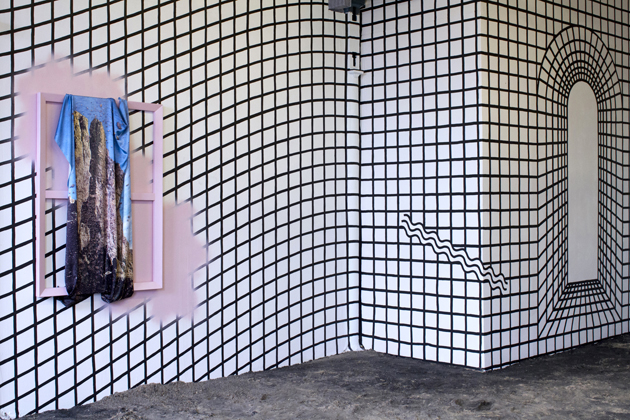 24k Gold Rita (2015). Photograph Acid Dyed on Silk, acrylic Paint, wooden Stretcher, wall painting, granite, plywood, bin sticker, polycarbonate, corrugated plastic, bird shit, sand, ink. Made in collaboration with Oliver Hickmet.
© Mikey Cook
Artist Spotlight
Mikey Cook
Through (often erroneous) hypotheses in cosmological philosophies and pseudo-scientific speculation, my current practice seeks to question our perceptions of what we define as reality from a multiversalist perspective. Utilised as platforms for creative research, semi-fictional microcosms are concocted via the exploration, exploitation and documentation of events or occurrences within our consensus reality, often via a synchromystic filter (A Synchronicity is the occurrence of two events which are apparently mutually acausal or unlikely to occur together by chance, yet do so in a revelatory manner. Synchromysticism is the world-view that everything in the universe is connected). While the verity retained often gravitates toward suspiciously penumbral, fact of some sort never ceases to remain a common denominator, whether historical, social or scientific. It is these perpetually sinusoidal 'truths' which become the basis for spurious anachronism and alternative history created through a process of uncovering a plethora of far fetched and often irrational links.
I prefer to work on a few projects at a time, separate from each other in terms of content but linked via overarching themes (including, but not restricted to, Quantum Phenomenon, parallel universes, sociological and historical oddities, M-theory, methods and modes of museological display, Yorkshire Modernist sculpture, Non-local entanglement, anachronism, semi-fictional narratives, tall tales, the Holographic Principle, Implicate & Explicate order, the Delayed Choice Quantum Eraser, Simulation Hypothesis). This means ideas can constantly be reworked and refined while research is allowed to be a perpetual and integral part of the process, constantly feeding new ideas into the work and enabling projects to develop concurrently over a period of months while physical works are consistently being made.
One ongoing project, The Julie Mythos, concerns the fabrication of a simultaneously fictitious and factual Yorkshire: an alternate reality of God's Own County where the distinction between fact and flummery becomes increasingly blurred. The discovery of several Biro scrawled newspaper cuttings in my hometown of Castleford, West Yorkshire, mirror those discovered around the area since pre-puberty, with references to 'Julie' and identical handwriting common denominators- unsavoury signifiers of the transition of commodification in correlation to coming of age. Subsequent investigations concerning their origin uncovered a string of synchronicities between these cuttings; pre-teen porn collecting; Castleford's rich Roman heritage; lineage of nomenclature tracing back to the Goddess of love and sex, Venus (reappropriated from the Greek's Aphrodite, or Cytherea – an alias currently adopted by a porn star); and the mythical Siren (a euphemism in early christian etymology for prostitute). Collectively these synchronicities culminate in the fabrication of a highly speculative yet plausible universe, a uchronic Castleford enriched in the omnipresent 'Julie Mythos': a platform from which to synthesise a body of work involving the reappropriation and subsequent deformation of a plethora of relics from an imagined Castleford. Perverting paraphernalia from its Roman past to the work of it's most famous son, Henry Moore, up to it's present infatuation with poundshops, markets and bargain centres, semi-fictional souvenirs incite unhinged doppelgängers of classicism. Impeccable antiquity is subverted as once elegant objects are transformed and contorted by Poundland cheap and low brow construction: items which were once opulent in their antecedence metamorphose to suit today's post Thatcher Castleford.
Earlier in the year I was asked to take part in a research project initiated by CASS with Whitechapel Gallery surrounding two statues created by Danish sculptor Cibber, culminating in an exhibition at the Royal College of Psychiatrists, London. Cibber created Melancholy and Raving Madness to sit aside the gates of Bethlem Hospital on its relocation to Moorfields in 1676, one of which is supposedly based on Oliver Cromwells mad porter Daniel, who was once a patient at the hospital admitted for religious mania. Daniel correctly prophesied the Great Comet of 1664, now known as C/1664WI, the Great Plague and the Great Fire of London, both in 1666. As unlikely as Daniel was to correctly predict these events, they are all also explicitly linked, making their significance seem even greater – comets are often speculated as harbingers of plague and pestilence, with C/1664WI being no different, and the foreshadowed Great Fire successfully eradicated the responsible bacteria, Yersini Pestis, from the streets of London.
At the end of the research project I installed An Illustrious Monument to the Prophet Daniel (in true enlightenment fashion) at the RCPsych. One way mirror film was applied to the entire area of the windows within the exhibition space with the exception of two pineapple rings cut out of the vinyl. These shapes, which were chosen to reference two portland stone pineapples atop each side of a viewing area into the hospital from the gardens (a symbol of welcome, harking back to the days of British Colonialism where Pineapples were brought back from further afield and hung above doorways to welcome visitors), and take up an area equivalent to 53p worth of the total amount of film used, a reference to the fact visitors used to be able to pay 2d to observe the patients of the hospital as entertainment, an amount now equivalent to approximately 53p. The film is translucent from inside, providing an unrestricted view out, let only allows 53p worth of the installation to be seen from the outside. The acrylic shapes within the installation are based upon microscope images of the Gram-stained bacterium, created from clear tubing to suggest the aesthetics of neon signage, a reference to the original context of the statues as advertisements for signs for the hospital, and what, or more accurately who, it contained within it's walls. The gram-negative bacteria are consistently referenced throughout the installation, whether via fragments of their 3D models or laser cut silhouettes in the digital prints, or created from black ash – made from Samuel Pepys' recipe for small cakes, which supposedly initiated the Great Fire. The Great fire is again referenced via a magic lantern slide mounted to the window depicting the Monument to the Great Fire, significant for two reasons; that the bas relief carving at its base was executed by Cibber; and that the magic Lantern was one of the first forms of entertainment for the patients introduced by Charles Hood, whose role as Superintendent signified a new era of Enlightenment within the Hospital. Another point of interest surrounding the Monument is that it was commissioned by Robert Hooke, the architect responsible for the design of Bethlem at Moorfields; scientist accountable for the first accurate depiction of Cerntaphyllus Faciatus in Microphagia, 1665, the flea responsible for the rapid spread of the Black Death; and astronomer studying the path of C/1664WI in great detail for the first time using pioneering telescopes of his own design.
Right now, as well as continuing research into these 2 areas, I'm also trying to develop a new body of work initiated from the ongoing theft of numerous Moore & Hepworth bronzes from their public settings to be melted down and sold for remanufacture as brass electrical components, exploring unsolicited reappropriation and gross decontextualisation for the generation of new artworks as a recurring theme throughout history. So far I've found links between Moore, the re-presentation of an ancient mesoamerican offertory vessel as a museological artefact and a garden bench, via Favonius, Roman wind God who held dominion over flowers and plants, and St. James' Park Underground stop, but there's still a lot of work to be done.